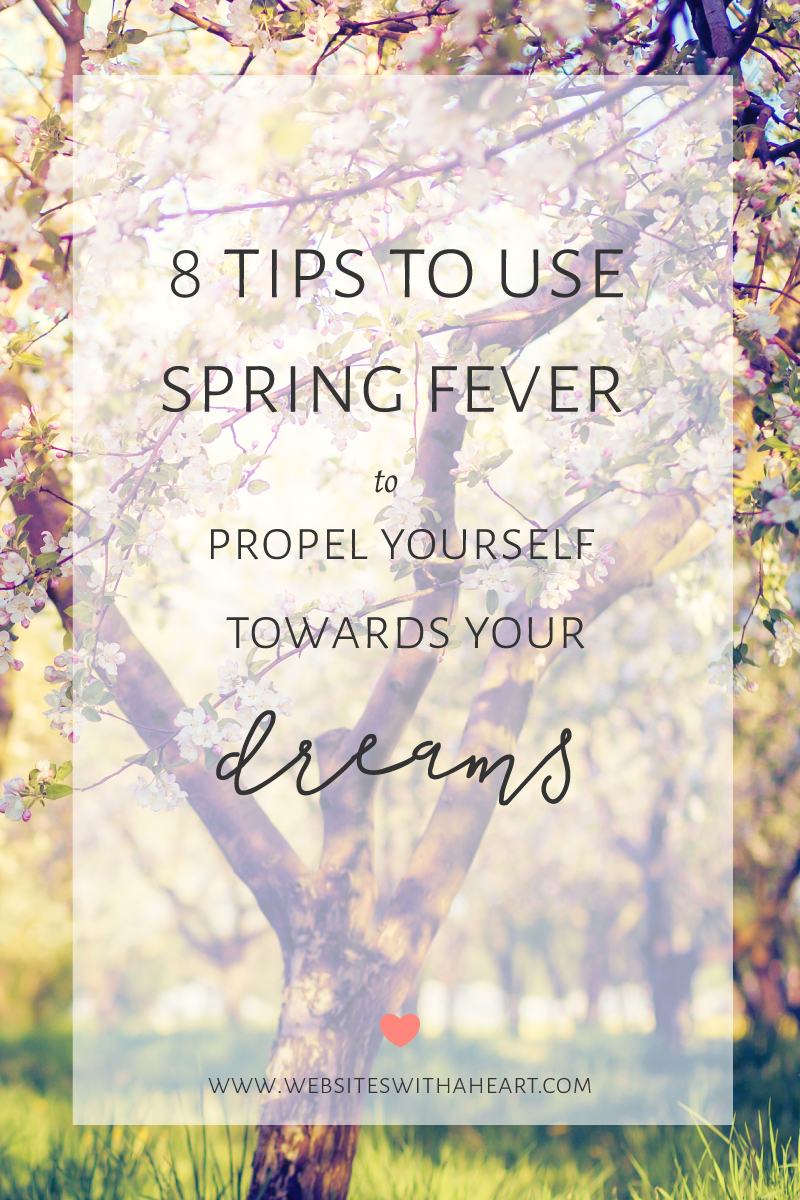 Are you day dreaming a lot lately?
Do you spend lots of time thinking about finally doing the things you've been dreaming about for so long? Are you a bit more restless than usual?
You may have caught spring fever!
Spring fever is actually something real.
Scientists tell us that the spike in restlessness & daydreaming are the result of changes in hormone levels because of more exposure to light, more exercise, and more bare skin :)
In this post I'll share the things that worked for me to realize my dreams.
My dreams were moving abroad – living in the middle of nature in a tiny village, running my own business and doing what I love every day.
What are your dreams?
These are my tips to help you put spring fever to good use and take steps towards realizing your dreams:
Walk or sit outside with bare feet as often as possible. The direct contact with the earth can help you get rid of negative emotions or thoughts, bringing you the clarity you need to move in the right direction. No need to think up brilliant ideas or solutions – just be… and inspiration can come to you!
Start making lists of the things you'd like to move towards, create or have.
Write out a little story of what your life would look and feel like if you have achieved your wish or dream. Make it colourful. The key is to feel enthusiastic and excited every time you read this little story; enthusiasm and joy attracts! Try to read it once or twice a day.
Make little drawings that show your dream; they don't need to be works of art, just little sketches showing you doing what you love, surrounded by hearts, flowers and other things that make you feel good. Colour them also, and hang them in several places in your house where you'll see them often.
Take a first step, even if it's incredibly small. Even if you don't know what the next step would be. Taking a first step will open up more possibilities, and bring more opportunities to you that were not there before.
Share your intentions with some people around you, this will make it more real and allows others to come up with ideas or tips you hadn't thought of yet. If at all possible, share your dreams and plans only with supportive friends or relatives. You know the ones I mean! Don't worry about working out or explaining the details, try to share your excitement for making it happen; wouldn't it be great if …. ?! If they respond with; "But how?"  You can say: "I don't know the details yet, but I know it's possible and I would love for it to happen". When we were dreaming about moving to a small village in the middle of nowhere, we made a sort of project plan with a timeline, which we shared with family and friends. I'm not sure what they all thought of it, and we had no idea how we were going to make it happen. We never really used this project or looked at the document again after that. But the funny thing is that we found this little document recently, and guess what; the timeline turned out to be spot on because as it happens we moved abroad exactly when we had specified in the document!
Try to keep your thoughts positive, try to focus on what you have and what is working, instead of on what is not yet how you'd like it to be. Being positive = feeling good = being joyful = is being like a magnet for more good things to come.
Join a business support group for women; this can be incredibly motivating and supportive when you try to realize your dreams. Examples are Leonie Dawson's Shining Academy  and Carrie Green's Female Entrepreneur Association.  They are not free, but you'll receive an incredible amount of resources, support and feedback there. If you're serious about making your dream happen, it's probably worth the investment. If you're not ready to take this step now, you can always join their newsletter and see how you feel about what is shared and benefit from the free tips and info they share in their mailings.
Most of these are quite small and easy things to do – but these are the tiny steps that make things happen!
Success is the sum of small efforts repeated day in and day out – R. Collier
I love what Christina Rosalie writes about spring in her book 'A Field Guide to Now' (one of my favourite books) – she talks about the restlessness and listlessness she experiences when the world starts to turn green again around her:
Listlessness is an incredible literal state of being if you think about it, and when I begin to feel wanderlust spreading through me like a fever as the world turns green, I make a list of intentions just like that. What you list for, you can move toward. It is no wonder that to list is also a verb. Lists are a flirtation between the present and the future; they are an antidote to restlessness, a balm for spring fever.
Good luck with realizing your dreams xx
[newsletter-signup]